Autumn for us is one of the most beautiful seasons of the year.  Glorious colours, low sunsets, misty mornings and first frosts.  However, dogs tend to sleep longer during these shorter days which interrupts sleeping patterns. Their energy levels tend to slow down and they may put on weight.
So, if you are a dog owner it's even more important to exercise your dog regularly this time of the year to keep them fit, healthy and energised.
Here at Hampstead Hounds we are out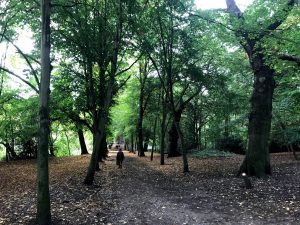 every day, enjoying a mixture of Adventure Walks and One-to-One walks. During the summer you'll find us cooling down at the Ponds but now Autumn is here we take advantage of one of the hidden gems of Hampstead Heath the 'Avenue of Trees'.
It's not the area's official title, we just like to call it that, but you can easily get to it from the entrance at Well Walk.
Once we get there it's hard to believe we are in the middle of London walking under a magical canopy of trees watching our dogs run around enjoying the falling leaves and embracing the mud!
For us it's a chance to breath in the autumn air, keep fit ourselves and start planning for a new year ahead.
As a bespoke dog walking service we are lucky to be able to plan our Autumn walking schedules to coincide with daylight hours which benefits our dogs.  However, if  you are working 9-5 you'll probably find yourself walking your dog when it is dark so we recommend:-
A reflective harness or dog jacket so you can see your dog easily
Avoid walking at night during the firework season
Ensure you have a torch with you
Plan weekend walks in daylight
Snacks and a thermos for hot drinks
Of course, as the air starts to feel chillier ensure dogs are wrapped up warm when necessary, especially the older ones, some of whom suffer from arthritis just like us humans.
For those dogs that love the mud do let them enjoy a roll around in it every now and then! A lot of the mud will naturally come off as they run through the grass, and you can always pop to the ponds for a quick dip before home time.
So finally, if you are lucky like us to live and work in Hampstead Village, don't lock yourself in during the Autumn season get out there, explore the Heath, take in the amazing smells and colours of the trees but most of all get yourself down to the Avenue of Trees and enjoy this fantastic season with your dog!
Have a wonderful Autumn!
Fact: Did you know that over 800 old trees have been identified on the Heath some of which are veteran oaks over 500 years old! How amazing is that. You can find out more on the Ancient Tree forum which also lists ancient sites to visit.